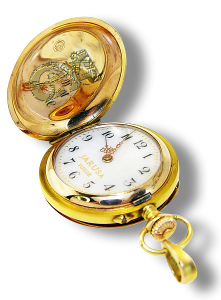 In a few hours, the year 2016 will be over. So, the secretary of the new elected committee of CAcert Inc., the infrastructure partner of the CAcert comunity, had just enough time, to show his gratitude to two members of the association who were active in the association for exactly five years. That is the reasons, why he handed over them a (virtual) golden watch as sign of thank you.
Kevin Dawson from New South Wales, the home of CAcert, became Public Officer in 2011 and remained in this function until 2016. As public officer, he dealed with the New South Welsh government and was contact person for the Office of Fair Trade and CAcert's bank. Furthermore, Kevin Dawson, had a seat in the committee from 2011 to 2013 and in the transition committee in summer 2016. We sincerely thank Kevin for his excellent work, which he has done silently at the other end of the world, but always exactly and well, and regret that he is now concentrating on new things.
The second gold watch for five year loyal services to CAcert Inc. was handed over to Dirk Astrath from Germany, the country with the most community-members. He startet – at the same time as Kevin as Public Officer – as assessor in the committee. Later he hold the functions of secretary, vice president and president with exception of winter 2015/2016. If everything goes well with the "move" of CAcert Inc. Dirk will have been the last president of the Australian association.