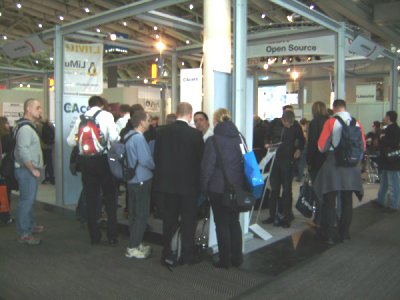 This years CeBIT 2010, CAcert got a booth as part of 15 projects within the Open Source Project Lounge sponsored by Linux New Media. CAcert thanks Linux-Magazin and Linux New Media for the sponsoring of the booth presentation at CeBIT 2010.

The Assurance Team by Ian Grigg, Joost Steijlen, Dirk Astrath and Ulrich Schroeter finalized the Co-Audited Assurance plan for 2010 and launched it at the 2nd CeBIT day, March 3rd. The upfollowing days, most of the Assurers from the booth were tested.
The Event Organizer Joost Steijlen managed the team of upto 12 Assurers on the booth. The preplanning was done by Ulrich Schroeter with help from Alexander Bahlo. Thanks to Michael Jopen for the contribution of 7500 (!) CAP forms. At CeBIT around 2500 CAP forms were used. The rest of the CAP forms are packed into the Event bag to Chemnitzer Linuxtage and upcoming events. Some are transfered to the Netherlands for their upcoming events. Also thanks to Mozilla, who sponsored the Internet Access at the booth for all 15 projects at the Open Source Project Lounge.
My thanks goes to all of our Assurers for their help at the booth. Also to Joost for taking the job as booth organizer.