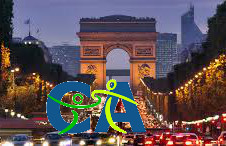 Le prochain rendez-vous mensuel à Paris à lieu le
mardi 21 mars 2017 entre 19:00 heures et 20:00 heures

Nous vous proposons une rencontre pour toutes personne intéressée par CAcert. Validation, cértification, accrédidation de vos identités et informations sur CAcert.
Bar de l'Hôtel Novotel Les Halles
8, place Marguerite de Navarre
Paris 1er, Mo Châtelet
Pour plus d'informations; voir le wiki.
If you stay at Paris, do not miss to join the local CAcert assurer group to pass a nive evening with them at March 21st!