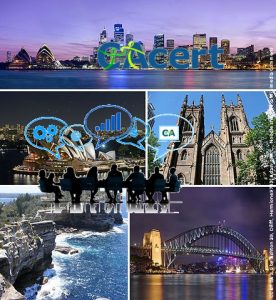 CAcert Inc.'s Annual General Meeting was held shortly before Christmas. Most of the members of the committee have made themselves available for another year. Two members, who also perform other tasks within the CAcert-community, will focus on this in the future.
On January 12th (January 13th, local time in New South Wales) the committee was constituted. However, he has already started work before. As mentioned at the Annual General Meeting, two points are at the top of the pendency list this year: Balanced finances and progress in moving to Europe.
Neuer Vorstand konstituiert
Kurz vor Weihnachten hat die Generalversammlung von CAcert Inc. stattgefunden. Die meisten Mitglieder des Vorstandes haben sich für ein weiteres Jahr zur Verfügung gestellt. Zwei Mitglieder, die auch noch andere Aufgaben innerhalb der CAcert-Gemeinschaft wahrnehmen, konzentrieren sich in Zukunft auf diese.
Am 12. Januar 2018 (13. Januar Ortszeit in Neusüdwales) hat sich der Vorstand konstituiert. Die Arbeit hat er jedoch bereits vorher aufgenommen. Wie bereits an der Generalversammlung gesagt, stehen dieses Jahr zwei Punkte ganz oben auf der Pendenzenliste: Ausgeglichene Finanzen und Fortschritte im Umzug nach Europa.
Nouvelle composition du comité

L'assemblée générale annuelle de CAcert Inc. a eu lieu peu avant Noël. La plupart des membres du comité se sont rendus disponibles pour une nouvelle année. Deux membres, qui s'acquittent également d'autres tâches au sein de la communauté CAcert, se concentreront sur ces questions à l'avenir.
Le 12 janvier 2018 (le 13 janvier, heure locale en Nouvelle-Galles du Sud), le comité a été constitué. Cependant, il a déjà commencé à travailler auparavant. Comme cela a déjà été mentionné lors de l'assemblée générale, deux points sont en tête de liste cette année: Des finances équilibrées et des progrès dans la migration vers l'Europe.