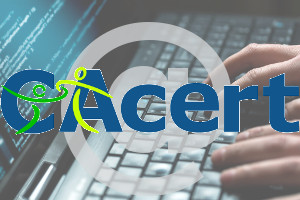 If you have an account with CAcert you probably received a mail from the board of CAcert Inc. a little over two weeks ago, about the current state of CAcert. We are happy to announce that we received a lot of replies, with many offers to support CAcert with work, as well as a significant amount of monetary donations. There were over 70 offers to help with systems administration, and there is still a trickle of inflow!
So, first of all, a big thank you to all responders, for giving us some confidence in our opinion that the CAcert project still has its merits in this world. If you volunteered as a system administrator or for another job, please be a bit patient with us, as we have to sort, evaluate and categorise all applications and decide on a specific way to continue and a specific place where each person can help. And, please, don't be disappointed if you are not chosen for your favourite job. As you can probably guess, we won't be able to provide sensible work for over 70 sysops!
On the other hand, we hope that many of those people can help out with Customer Support jobs. If you are looking for a way to join CAcert's workforce even if you don't specialize in systems or network administration, https://wiki.cacert.org/comma/Workbench/HelpNeeded has been updated to give an overview on the teams and work areas of CAcert.
It really feels like there's some fresh enthusiasm in the community! We hope to keep up the momentum.
Thank you,
Brian McCullough
President, CAcert, Inc.
For the Board of CAcert, Inc.