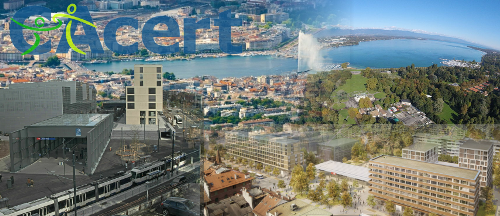 Italiano / español
Naturalmente, CAcert è prima di tutto un'organizzazione virtuale. Ma l'associazione di sostegno ha la sua sede in un indirizzo reale.
Attention: Le Gouvernement de la République et Canton de Genève vous recommande vivement un confinement volontaire le mercredi 16 juin 2021 (et par conséquent de visiter CAcert virtuellement uniquement). Please note: The Government of the Republic and Canton of Geneva strongly recommend a voluntary quarantine (and consequently visit CAcert virtually only) on Wednesday 16 June 2021.
Come è noto, CAcert, come organizzazione internazionale per la sicurezza su Internet, si è trasferita dal Nuovo Galles del Sud a Ginevra, Svizzera, alla fine dello scorso anno. Ginevra è la città internazionale con sede di decine di organizzazioni internazionali. Quando saliamo sul tetto della sede di CAcert Inc a Ginevra, appaiono grandi immagini: moderni tram si fermano proprio davanti alla nuova stazione di Ginevra Eaux-Vives, costruita da Jean Nouvel, sulla linea internazionale del Léman Express dalla Savoia alla Svizzera. Se giriamo la testa un po' più al nord, tra la fontana di fama mondiale del lago di Ginevra e lo spettatore si trova il parco con la Villa La Grange, dove i presidenti degli Stati Uniti e della Federazione Russa si incontreranno nei prossimi giorni, non per discutere della sicurezza di Internet, ma della sicurezza nel mondo. No, poiché siamo impegnati nella privacy, non ha una web camera sul tetto per guardare questi signori.
CAcert recibe a John Biden y Vladimir Putin en Ginebra
Por supuesto, CAcert es ante todo una organización virtual. Pero la asociación de apoyo tiene su sede en una dirección real. Como es sabido, CAcert, como organización internacional para la seguridad en Internet, se trasladó de Nueva Gales del Sur a Ginebra (Suiza) a finales del año pasado. Ginebra es una ciudad internacional con sedes de decenas de organizaciones internacionales. Cuando subimos al tejado de la sede de CAcert Inc en Ginebra, aparecen grandes imágenes: los modernos tranvías se detienen justo delante de la nueva estación de Ginebra Eaux-Vives, construida por Jean Nouvel, en la línea internacional del Léman Express de Saboya a Suiza. Si giramos la cabeza un poco más hacia el norte, entre la mundialmente famosa fuente del lago de Ginebra y el espectador se encuentra el parque con la Villa La Grange, donde los presidentes de Estados Unidos y la Federación Rusa se reunirán en los próximos días, no para debatir sobre la seguridad en Internet, sino sobre la seguridad en el mundo. No, como estamos comprometidos con la privacidad, no tiene una cámara web en el techo para vigilar a estos señores.