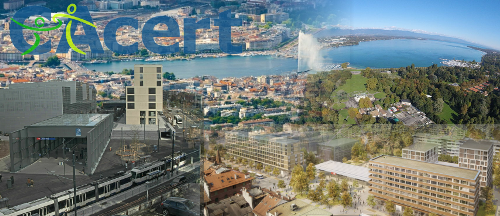 Deutsch / English
Natürlich ist CAcert in erster Linie eine virtuelle Organisation. Aber der Trägerverein hat seinen Sitz an einer reellen Adresse.
Attention: Le Gouvernement de la République et Canton de Genève vous recommande vivement un confinement volontaire le mercredi 16 juin 2021 (et par conséquent de visiter CAcert virtuellement uniquement). Please note: The Government of the Republic and Canton of Geneva strongly recommend a voluntary quarantine (and consequently visit CAcert virtually only) on Wednesday 16 June 2021.
Bekanntlich ist CAcert als internationale Organisation für Sicherheit im Internet Ende letzten Jahres aus Neusüdwales nach Genf in der Schweiz umgezogen. Genf ist die internationale Stadt mit Sitz von Dutzenden internationaler Organisationen. Wenn wir am Sitz von CAcert Inc in Genf auf das Dach steigen, zeigen sich großartige Bilder: moderne Trams halten direkt vor dem neuen, von Jean Nouvel erbauten Bahnhof Genf Eaux-Vives an der internationalen Linie des Léman-Express von Savoyen in die Schweiz. Drehen wir den Kopf etwas mehr gegen Norden , liegt zwischen dem weltbekannten Springbrunnen im Genfersee und dem Betrachter der Park La Grange mit der Villa, in welcher sich in den kommenden Tagen die Präsidenten der Vereinigten Staaten und der Russischen Föderation treffen, zwar nicht um über Internetsicherheit zu debattieren, aber um die Sicherheit in der Welt. Nein, da wir uns für den Schutz der Privatsphäre einsetzen, hat es keine Web-Kamera auf dem Dach, um diese Herren zu beobachten.
CAcert welcomes John Biden and Vladimir Putin in Geneva
Of course, CAcert is first and foremost a virtual organisation. But the supporting association has its headquarters at a real address. As is well known, CAcert as an international organisation for security on the internet moved from New South Wales to Geneva in Switzerland at the end of last year. Geneva is the international city with the headquarters of dozens of international organisations. When we climb onto the roof at the headquarters of CAcert Inc in Geneva, great images appear: modern trams stop right in front of the new Geneva Eaux-Vives station built by Jean Nouvel on the international line of the Léman Express from Savoie to Switzerland. If we turn our head a little more towards the east, between the world-famous fountain in Lake Geneva and the viewer lies the park with the Villa La Grange, where the presidents of the United States and the Russian Federation will meet in the coming days, not to debate cyber security, but security in the world. No, because we are committed to privacy, it does not have a web camera on the roof to watch these gentlemen.