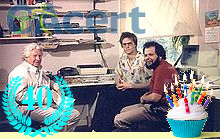 40 years ago, the Chaos Computer Club was founded in Germany. Steffen Wernéry (middle) was there from the beginning. Today he is no longer active in the front row. He remembers.
You still work in the industry.
Steffen Wernéry: I'm a data protection officer for an operator of anonymised network connections (VPN). I've always been less interested in hacking than in hunting for security holes, which others can do better, than in the creative, design side. I first came to computers through my interest in acoustics, photography and video. When I was 20, I did an art project with Bernd Krake in which I transmitted image data by telephone between the Hamburg Kunstverein and the Massachusetts Institute of Technology (MIT).
What about the creative use of technology today?
Steffen Wernéry: Hacking is more necessary than ever. Not in the sense of computer crime, but in the original sense, the critical handling of technology and finding weak points. We are surrounded by unfinished products. Software and hardware have security vulnerabilities, and those who rely on them are quickly finished. Instead of relying on stock and preservation, companies produce technological junk. Even in the literal sense, none of this is environmentally friendly. The products are designed for consumption and to be addictive. People spend less and less time in real life.
Virtual versus real life, I'm surprised that you, as a net activist, see this as a contradiction. Doesn't one enrich the other?
Steffen Wernéry: Sure, the internet is great if I want to repair my washing machine, if I want to exchange ideas with like-minded people about hobbies or politics, if I want to collect environmental data together with others. But most people sit in a consumption loop, waste their time and think that this is real life. We already said 40 years ago: machines reinforce structures. It happens all by itself. If you don't use technology consciously, you will be used by it.
Sounds like the CCC has failed.
Steffen Wernéry: The club does what it can. It teaches young people media competence in the project "Chaos macht Schule". It participates in lawsuits against laws, keeps up the exchange with other institutions. But it is a fight against windmills. That's why it's so important to keep some anarchy and fun going. (Questions by Ruth Fulterer)
Starting in 1986, the hackers used a flaw in an operating system to infiltrate other people's systems and gain access rights there. Computers at the Cern nuclear research centre were among those affected. In 1986, the club newspaper "Datenschleuder" printed an internal complaint about the intruders: "There seems to be a club based in Germany called the 'chaos club' whose collective hobby is hacking systems connected to public X25 networks."
Wernéry and Wau Holland, the club's leaders at the time, contacted the companies involved and later spoke out to the media when the case became public (above: broadcast from the German TV ARD from 15. September 1987). Then, on his way to a congress where he was to speak about data protection, Wernéry was arrested in France in 1988. He was believed to be an accomplice or even responsible for the hack. The investigators quickly dropped this accusation and he was released. The investigation into his complicity continued for a long time, but in the end came to nothing.