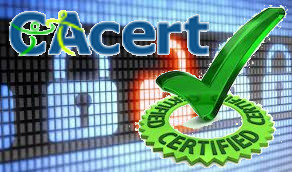 English | Deutsch | Français | Español | Fingerprints
English | We already reported here in January that our Class 3 certificate is being re-signed. This was done a few weeks ago in our data centre in the Netherlands and subsequently tested extensively by our volunteers.
The new Class 3 certificate can now be downloaded here. In some days we will update the fingerprints and publish the other formats here. We recommend that all users use the new Class 3 certificate immediately, as the old certificate is approaching its expiry date and will no longer be valid after May 20th. Download the new certificate today and install it in your browser, e-mail program or certificate server as required.

All this exciting work (planning, re-signing, testing, communication) was done by volunteers from the CAcert community. They have acquired a lot of expertise over time and have worked their way up in the community. CAcert continues to offer such opportunities to interested and committed people today.
Alles neu macht der Mai – Neuerungen bei CAcert
Deutsch | Wir haben bereits im Januar an dieser Stelle darüber berichtet, dass unser Class-3-Zertifikat neu signiert wird. Dies ist vor einigen Wochen in unserem Rechenzentrum in den Niederlanden geschehen und anschliessend ausführlich von unseren Freiwilligen getestet worden.

Das neue Class-3-Zertifiat kann jetzt hier heruntergeladen werden. In wenigen Tagen werden wir die Fingerprints als auch die anderen Formate hier an gewohnter Stelle veröffentlichen. Wir empfehlen allen Nutzern, ab sofort das neue Class-3-Zertifikat zu verwenden, da das alte Zertifikate seinen Ablaufdatum entgegenschreitet und dann nicht mehr gültig ist. Laden Sie heute noch das neue Zertifikat herunter und installieren Sie es je nach Bedarf in Ihrem Browser, e-Mailprogramm oder Zertifikatsserver.

Alle diese spannenden Arbeiten (Planung, neu signieren, testen, Kommunikation) wurden von Freiwilligen der CAcert-Gemeinschaft erledigt. Sie haben sich im Laufe der Zeit viel Fachwissen angeeignet und sich in der Gemeinschaft hochgearbeitet. CAcert bietet auch heute interessierten und engagierten Leuten solche Möglichkeiten.
Changez vers le nouveau certificat class 3
Français | Nous avons déjà signalé ici en janvier que notre certificat de classe 3 était en cours de re-signature. Cela a été fait il y a quelques semaines dans notre centre de données aux Pays-Bas et a ensuite été testé de manière approfondie par nos volontaires.

Le nouveau certificat de classe 3 (comme l'ancien) peut être téléchargé ici. L'empreinte digitale va être publié dans les jours à venir ici. Nous recommandons à tous les utilisateurs d'utiliser le nouveau certificat de classe 3 à partir de maintenant, car l'ancien certificat approche de sa date d'expiration et ne sera plus valide. Téléchargez le nouveau certificat aujourd'hui et installez-le dans votre navigateur, votre programme de messagerie ou votre serveur de certificats, selon vos besoins.

Tout ce travail passionnant (planification, re-signature, tests, communication) a été réalisé par des bénévoles de la communauté CAcert. Ils ont acquis une grande expertise au fil du temps et ont gravi les échelons au sein de la communauté. CAcert continue aujourd'hui à offrir de telles opportunités aux personnes intéressées et engagées.

Español | Hace unas semanas, nuestro certificado de clase 3 se volvió a firmar en nuestro centro de datos de los Países Bajos y, a continuación, nuestros voluntarios lo probaron exhaustivamente. El nuevo certificado de clase 3 puede descargarse aquí. La huella dactilar y los demás formatos estarán disponibles en los próximos días aquí. Recomendamos a todos los usuarios que utilicen el nuevo certificado de clase 3 a partir de ahora, ya que el antiguo dejará de ser válido en breve. Instale el nuevo certificado de clase 3 hoy mismo.

Todo este apasionante trabajo ha sido realizado por voluntarios de la comunidad CAcert. CAcert ofrece interesantes oportunidades a las personas interesadas y dedicadas.
Fingerprints | SHA1 Fingerprint = D8:A8:3A:64:11:7F:FD:21:94:FE:E1:98:3D:D2:5C:7B:32:A8:FF:C8
SHA256 Fingerprint = 1B:C5:A6:1A:2C:0C:01:32:C5:2B:28:4F:3D:A0:D8:DA:CF:71:7A:0F:6C:1D:DF:81:D8:0B:36:EE:E4:44:28:69