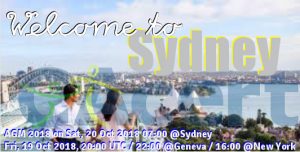 We wish a warm welcome to all our members to Sydney, New South Wales to our Annual General Meeting. It will be on Sat, 20 Oct 2018 07:00 @Sydney. For booking your journey, please consider our partner, booking.com
You can attend the Meeting from around the globe on IRC. Please, save the date: Fri, 19 Oct 2018, 20:00 UTC / 22:00 @Geneva / 16:00 @New York. If you are a member of the community, but not yet of the association, why not become a member now?
Bienvenue à Sydney, Nouvelle Galles de Sud pour l'Assemblé générale 2018 le vendredi 19 octobre 2018 à 22:00 heures de Paris. Pour vos déplacements, veuillez voyager avec notre partenaire booking.com Si vous êtes un membre de la communauté, mais mas encore de l'association, cela sera l'occasion de le devenir jusqu'en octobre!
Willkommen in Sydney zur diesjährigen Generalversammlung. Sie findet am Freitag, 19. Oktober um 22:00 Schweizer/Deutsche/Liechtensteinische/Österreichische/Südtiroler Zeit statt. Sie sie Mitglied der CAcert-Gemeinschaft, aber noch nicht des Trägervereins? Dann werden Sie es jetzt! (Auch wenn Sie in den IRC-Kanal kommen, um nicht ans andere Ende der Welt zu fliegen, gibt es immer wieder Gelegenheiten, eine Reise bei unserem Partner booking.com zu buchen.)