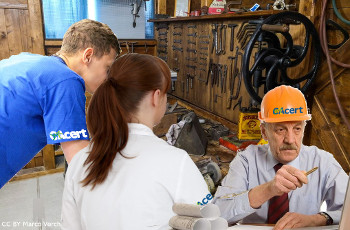 English | Français | Deutsch
An on-site intervention in our datacentre will take place not later than Friday, June 18. The purpose of this intervention is to correct a defect on one of our network equipment, which lowers the redundancy of our infrastructure.
At the same time, it should allow us to diagnose and hopefully resolve without delay a transmission problem between our signing server and the rest of the infrastructure. By June 18, our members will no longer be able to renew their certificates, nor will they be able to make public the revocation of their certificates if necessary.

As always, keep in mind that CAcert is a community of volunteers. Thank you to everyone who helps us! We encourage anyone who would like to do so, or who has done so in the past and not received a response, to offer (or re-offer) their services by contacting our committee members: secretary (at-sign) cacert.org


Travaux planifiés à Ede.
Une intervention sur site dans notre datacenter aura lieu le plustard le vendredi 18 juin. Elle a pour but de corriger un défaut sur un de nos équipements réseau, qui abaisse la redondance de notre infrastructure. Simultanément, elle devrait permettre de diagnostiquer et nous l'espérons résoudre sans délai, un problème de transmission entre notre signer et le reste de l'infrastructure. D'ici le 18 juin, nos membres ne seront plus capables de renouveler leurs certificats, ni de rendre publique la révocation de leurs certificats si nécessaire.

Comme toujours, gardons à l'esprit que CAcert est une communauté de bénévoles. Merci à tout ceux qui nous apportent leur aide ! Nous encourageons tous ceux qui voudraient le faire, ou qui l'ont fait par le passé et n'ont pas reçu de réponse, à proposer (ou reproposer) leurs services en contactant les membres de notre comité: secretary Arobase cacert.org

Dringende Unterhaltsarbeiten
Ein Vor-Ort-Einsatz in unserem Rechenzentrum findet spätestens am Freitag, 18. Juni, statt. Der Zweck dieses Eingriffs ist die Behebung eines Defekts an einem unserer Netzwerkgeräte, der die Redundanz unserer Infrastruktur herabsetzt. Gleichzeitig sollte es uns ermöglichen, ein Übertragungsproblem zwischen unserer Signer und dem Rest der Infrastruktur zu diagnostizieren und hoffentlich ohne Verzögerung zu beheben. Bis voraussichtlich am 18. Juni können unsere Mitglieder ihre Zertifikate nicht mehr erneuern und ggf. die Sperrung ihrer Zertifikate öffentlich machen.
Wie immer sollten wir uns vor Augen halten, dass CAcert eine Gemeinschaft von Freiwilligen ist. Vielen Dank an alle, die uns helfen! Wir ermutigen alle, die dies gerne tun möchten oder dies in der Vergangenheit getan haben und keine Antwort erhalten haben, ihre Dienste anzubieten (oder erneut anzubieten), indem sie sich an unsere Vorstandsmitglieder wenden: secretary Affenschwanz cacert.org