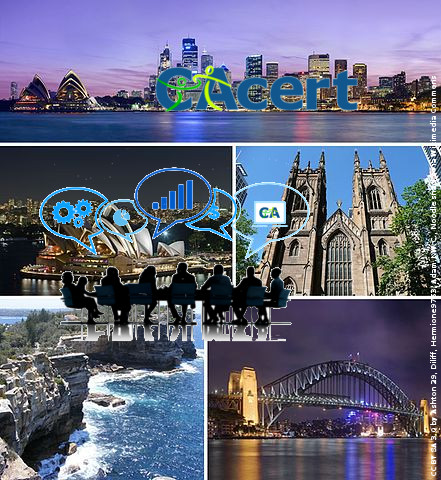 English | Deutsch | Français | Español
There are some good news: The committee of CAcert Inc, the association behind our community, is again complete (picture: before the relocation to Europe). We welcome Michael R from Canada as the new treasurer. He takes over from Frédéric G from France who ran the treasury during a difficult period when Paypal cut us off from our money for months. We thank Frédéric G for his work in the past and look forward to working with Michael.
Newly, several people are taking care of the finances with the finance team. Besides the treasurer, the finance team includes Waclaw from Poland and Frédéric D. On the one hand, the finance team will replace our outdated accounting software. It also wants to unify the structures that have grown over the years. Thirdly, it will support the Board with subsidy applications.
Deutsch Der Trägerverein CAcert Inc hat einen neuen Kassier. Dieser wird in seinen Aufgaben durch das Finanzteam unterstützt. Erste Aufgaben werden sein, unsere veraltete Buchhaltungssoftware zu ersetzen. Ausserdem sollen die über die Jahren gewachsenen Strukturen verschlankt und der Vorstand bei Subventionsgesuchen unterstützt werden.
Français L'association CAcert Inc a un nouveau trésorier. Il sera soutenu dans ses tâches par l'équipe des finances. Les premières tâches consisteront à remplacer notre logiciel de comptabilité obsolète. En outre, les structures qui se sont développées au fil des ans seront rationalisées et le comité sera soutenu dans ses demandes de subventions.
Español La asociación patrocinadora CAcert Inc. tiene un nuevo tesorero. Estará apoyado en sus tareas por el equipo de finanzas. La primera tarea será sustituir nuestro anticuado programa de contabilidad. Además, se racionalizarán las estructuras que han crecido a lo largo de los años y se apoyará al consejo en las solicitudes de subvención.