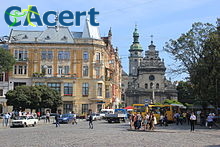 DEUTSCH Jetzt den Wiederaufbau der Ukraine vorbereiten! In der Ukraine hatte CAcert vor Kriegsausbruch Assurer in Lemberg und Kiew. Befinnden sich zur Zeit in Ihrer Umgebung ukrainische Flüchtlinge? Dann helfen Sie diesen, Assurer zu werden.
Zum Beispiel indem Sie beim CATS übersetzen. Indem Sie ihnen bei den Assurance beistehen und andere Assurer beiziehen, sich selber assuren lassen.
ENGLISCH Prepare the reconstruction of Ukraine now! In Ukraine, CAcert had assurers in Lviv and Kiev before the outbreak of war. Are there Ukrainian refugees in your area at the moment? Then help them to become assurers. For example, by translating at CATS. By assisting them with the assurances and involving other assurers, or by becoming an assurer yourself.
POLSKI Przygotuj si? do odbudowy Ukrainy ju? teraz! Na Ukrainie CAcert mia? przed wybuchem wojny asesorów we Lwowie i Kijowie. Czy w Twojej okolicy mieszkaj? obecnie uchod?cy z Ukrainy? Nast?pnie pomó? im sta? si? asesorami. Na przyk?ad t?umacz?c w CATS. Pomagaj?c im w uzyskaniu zapewnienia i anga?uj?c innych asekuruj?cych lub samemu staj?c si? asekuratorem.