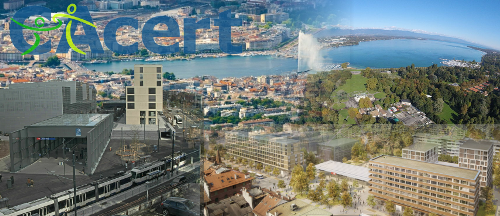 Français / portoguês
Bien sûr, CAcert est en premier lieu un large groupe d'utilisateurs opérants en ligne et donc à distance. Mais l'association CAcert Inc. dispose aussi d'une adresse bien réelle pour son siège international.
Remarque: le gouvernement de la République et Canton de Genève vous recommande actuellement de respecter un confinement volontaire; par conséquent, nous vous encourageons à ne rentrer en contact avec CAcert que par les moyens de communication à distance. Please note: the government of the Republic and Canton of Geneva currently recommends that you respect voluntary self-isolation; therefore, we encourage you to contact CAcert only by remote means of communication.
À la fin de l'année 2020, on se souvient que CAcert déménageait son siège de la Nouvelle-Galles du Sud, en Australie, vers Genève, en Suisse. Genève est une ville à vocation internationale, où se retrouvent des dizaines d'organisations à dimension mondiale, comme se doit de l'être CAcert dans sa mission en faveur de la sécurité sur l'Internet. Lorsqu'on accède au toit du siège de CAcert Inc. à Genève, un vaste panorama urbain se découvre: des tramways flambants neuf s'arrêtent devant la nouvelle gare de Genève Eaux-Vives, qui fut construite par Jean Nouvel; cette gare accueille la ligne ferroviaire internationale du Léman Express, celui qui rattache la Savoie à la Suisse. En tournant le regard vers le nord, entre le jet d'eau mondialement célèbre du lac Léman et l'observateur, se dessine le parc de La Grange, avec la villa du même nom, où les présidents de la Fédération de Russie et des États-Unis se rencontreront ces jours-ci; ils n'y débattront probablement pas de la sécurité sur l'Internet, mais s'occuperont nous l'espérons de garantir celle du monde. Comme nous sommes attachés au respect de la vie privée, aucune caméra web sur notre toit ne donnera à observer ces Messieurs !
CAcert dá as boas-vindas a Vladimir Putin e John Biden em Genebra
Naturalmente, a CAcert é principalmente uma organização virtual. Mas a associação de apoio tem sua sede em um endereço real.
Como é bem conhecido, a CAcert, como uma organização internacional de segurança na Internet, mudou-se de Nova Gales do Sul para Genebra, Suíça, no final do ano passado. Genebra é a cidade internacional onde estão sediadas dezenas de organizações internacionais. Quando você sobe ao telhado da sede da CAcert Inc em Genebra, grandes quadros aparecem: bondes modernos param bem em frente à nova estação Eaux-Vives de Genebra, construída por Jean Nouvel, na linha internacional Leman Express, da Savoy à Suíça. Se virarmos nossas cabeças um pouco mais para o norte, entre a mundialmente famosa fonte do Lago Genebra e o espectador está o parque La Grange com la Villa, onde os presidentes da Federação Russa e dos Estados Unidos se encontrarão nos próximos dias, não para discutir a segurança na Internet, mas a segurança no mundo. Não, como estamos comprometidos com a privacidade, não há câmeras web no telhado para monitorar estes senhores.