Français | Deutsch | English
Protégez-vous et protégez votre ordinateur!
Un certificat de CAcert protège contre les dangers sur Internet. En choisissant CAcert, vous avez fait un bon choix, car ici, vous n'espérez pas simplement que le prestataire le fera déjà bien, mais en tant que membre de la communauté CAcert, vous avez toutes les possibilités: Vérifiez notre travail – ou mieux encore: coopérez vous-même, car à qui pouvez-vous faire confiance plus qu'à vous-même et à vos plus proches collaborateurs!
Malheureusement, il existe des dangers contre lesquels vous ne pouvez pas vous protéger avec nos certificats. Les inondations, par exemple, ou les virus corona. Au rez-de-chaussée du siège de CAcert Inc. à Genève, en face de la gare des Eaux Vives, se trouve un grand centre de tests et de vaccination. Ici, vous pouvez obtenir immédiatement une protection X.509 et Covid-19.
Pour que les assurances redeviennent plus faciles et que nous puissions nous rencontrer à nouveau en personne lors d'une conférence prochainement: Protégez-vous avec un masque, gardez distance et respectez l'hygiène. Et: Faites-vous vacciner! Les deux, CAcert et Covid-19 nécessitent deux rendez-vous.*
*avec des assureurs expérimentés avec au moins 25 points, sinon cela peut être plus. La protection Covid se déploie 10 jours après la deuxième vaccination.
Schützen Sie sich und Ihren Computer!
Ein Zertifikat von CAcert schützt vor Gefahren im Internet. Mit der Wahl von CAcert haben Sie eine gute Wahl getroffen, denn hier hoffen Sie nicht einfach, dass der Anbieter es hoffentlich schon gut macht, sondern Sie haben als Mitglied der CAcert-Gemeinschaft alle Möglichkeiten: Überprüfen Sie unsere Arbeit – oder noch besser: arbeiten Sie selber mit, denn wem kann man mehr vertrauen, als sich selbst und seinen engsten Mitarbeitern!
Leider gibt es Gefahren, gegen die man sich mit unseren Zertifikaten nicht schützen kann. Überschwemmungen zum Beispiel oder Coronaviren. Im Erdgeschoss des Hauptsitzes des Trägervereins CAcert Inc. in Genf befindet sich ein grosses Test- und Impfzentrum. Hier bekommen Sie gleich beides X.509 und Covid-19-Schutz.
Damit Assurances wieder einfacher werden und wir uns demnächst wieder an einer Konferenz persönlich treffen können: Schützen Sie sich mit Maske, Abstand und Hygiene. Und: Lassen Sie sich impfen! Sowohl bei CAcert als auch bei Covid-19 braucht es zwei Termine.*
*mit erfahrenen Assurern mit mindestens 25 Punkten, sonst können es mehr sein. Covid-Schutz entfaltet sich 10 Tage nach der zweiten Impfung.
Protect yourself and your computer!
A certificate from CAcert protects you from dangers on the Internet. By choosing CAcert you have made a good choice, because here you are not simply hoping that the provider will already do it well, but as a member of the CAcert community you have all the options: Check our work – or even better: work with us yourself, because who can you trust more than yourself and your closest colleagues!
Unfortunately, there are dangers against which you cannot protect yourself with our certificates. Floods, for example, or corona viruses. On the ground floor of the headquarters of CAcert Inc. in Geneva there is a large testing and vaccination centre. Here you can get both X.509 and Covid-19 protection at once.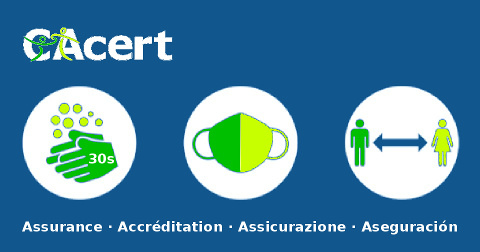 So that assurances become easier again and we can meet again in person at a conference soon: Protect yourself with mask, distance and hygiene. And: get vaccinated! Both CAcert and Covid-19 require two appointments.*
*with experienced assurers with at least 25 points, otherwise it may be more. Covid protection unfolds 10 days after the second vaccination.